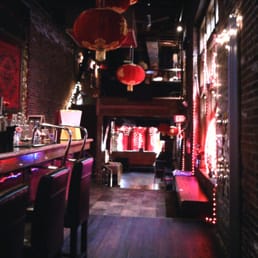 Situated in the Brewery District of downtown Columbus is Double Happiness, a nifty oriental themed venue housing a full bar and multi-genre performances from both local and national acts.
This brightly lit bar dripping from head to toe in Chinese decor and artwork has a unique atmosphere that distinguishes itself from other venues in the area. The stage is nestled along side the pit at the far end of the elongated venue providing some separation from the bar which spans a majority of the space on the other end. A few tables scattered amongst the joint provide the opportunity to kick back with some friends and enjoy the tunes from afar or you can descend down into the pit and wiggle it out.
Double Happiness hosts shows spanning all sorts of genres although there is a noticeable lean toward rock oriented acts. For all you metal heads and headbangers out there, Double Happiness may be the cup for your tea. Their calendar is consistently stacked with acts playing that heavier shit. Punk, metal, grunge, and other varieties of overdriven guitar laden tunes disturb the airwaves and induce hearing loss among the post college aged crowd. If heavy instrumentation and gutural vocals aren't your thing its still worth your time to check out their upcoming events as they also host indie and occasional hip hop shows.
Contact:
614-220-5558
doublehappinessohio@gmail.com
Hours:
Sunday - Monday: Closed
Tuesday - Thursday: 7PM-12AM
Friday - Saturday: 7PM-2AM
Other Info:
Street parking
Booking info
All booking is done via submission form on the booking page of the Double Happiness website which is linked at the top of this page. They will not book over the phone.
Double Happiness promote their shows to an extent but you will be heavily relied upon to promote your own shows as well. Touring acts are asked to contact a local band or artist about playing as an opener and to help with promotion of the show.
If you do not receive a reply they ask that you consider this as a respectful "no" and to try again at a later time
If you successfully book a show you are asked to contact their sound guy at matt.doublehappiness@gmail.com two weeks prior to the show to discuss what you'll need as far as running your sound and to make the appropriate arrangements.